Quran Software for windows
Quran Auto Reciter (Free)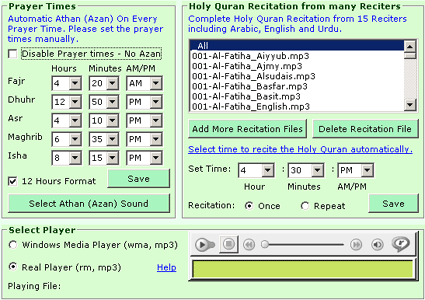 Quran Auto Reciter is used to read and listen the Quran from a vast choice of famous reciters.
It can be configured to launch automatically at specific times for recitals or for giving Athan at times manually configurable by yourself.
Prayer timings of local Masjids can be configured so that you're alerted five times a day by an Athan of your choice.
It also has lectures from well known scholars and Azan (Athan) sounds from many Moazans (Reciter) all over the world.
Read the Quran script in the Uthmani font and Simple Arabic font with full Tashkeel.
English and Urdu translations are also available for reading. Lot of Arabic fonts to display the Quran in beautiful arabic Calligraphy styles.
100% FREE
The following Reciters of the Holy Quran are available in the software:
1- English Translation of Holy Quran
2- Urdu Translation of Holy Quran
3- Abdul Rahman Alsudais
4- Muhammad Sedeeq Al-Menshawe
5- Su'ud As-Shuraim
6- Abdullah Basfar
7- Ahmad bin Ali Al-Ajmy
8- Ali Al-Hudhaifi
9- Ibrahim Al-Akhdar
10- Muhammad Aiyyub
11- AbdulBasit AbdulSamad
12- Mahmoud Al-Hosary
13- Sa'd Al-Ghamidi
14- Mishary Rashed al-Efasy
15- AbuBaker Shatree
And many other Reciters.
The following Athan (Azan) are available in the software:
1- Makkah
2- Madina
3- Al-Aqsa
4- Yusuf Islam
5- UAE
6- Turkey
7- Egypt
8- Canada
9- Pakistan
10- Abdul Basit Abdul Samad
11- Muhammad Sedeeq Al-Menshawe
And many other Moazans.
System Requirements:
– Microsoft Windows 98/2000/Xp/Vista/7/8
– Sound Card
– Internet Explorer 6.0 or above.
CNET Review
Reviewed by: CNET staff
Quran Auto Reciter provides users with a program for listening and reading the Koran. Thanks to a set of simple controls and excellent sound, this program is a great tool for anyone interested in this classic text.
This program's interface looks slightly cluttered, but fortunately its various boxes, choices, and the media player all quickly make sense and feel intuitive. In addition, the program has a Help file waiting to be utilized, and anything highlighted in blue on the screen is a click away from a pop-up window with user hints. Operating the Quran Auto Reciter was pleasantly simple, with excellent results. The centerpiece of the program is scheduling five automated prayer reminders. Using simple pull-down calendars, users set the time to automatically recite Fajr, Dhuhr, Asr, Maghrib, and Isha. In addition, playing crystal clear lectures and readings from the Koran is as simple as selecting a choice from the menu and hitting the Play button.
The program's special features are basic and provide depth to the overall package, which we really enjoyed. Users can read the Koran in several different languages, which was easy to access and utilize. In addition, users can schedule a lecture or reading to automatically play using the same calendaring function as the prayers. Quran Auto Reciter is an excellent program for users who want to hear the reading and schedule them to fit into their life. We highly recommend this freeware download.